The Fourth of July has come and gone, school is almost visible on the calendar and Target is stocking their shelves with backpacks...summer is dwindling by the day! I had big plans for myself at the beginning of June and I gotta say, I'm not doing so hot. So, I decided to participate in Top Ten Tuesday to get myself together, let's get to it: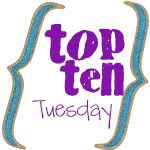 10 Things to Accomplish by the End of Summer:
1. Finish the
Couch 2 5K
program. I'm on Week 1 and if I stick to the plan, I'll be finished by mid-September.
2. In combination with #1: Convince someone to run/travel to the
Wine & Dine 5K weekend in Disney World
. I find it only fitting that my first 5K should be somewhere magical, don't you?
3. Finish cleaning out and organizing our basement. We started off strong with a garage sale in May, now time to organize the things we actually want to keep.
4. Plan my daughters 4th birthday party at the end of July. Invitations have been sent, now its time for the fun part!
5. Print Pictures! I have thousands that need to be sorted, printed and put into albums.
6. Paint my son's room (don't tell my husband). He did a lovely job painting the nursery orange..but that was before we knew he was a boy, and now, I really want a new color.
7. Cook! I've been on a roll this summer with learning to cook new dishes. I've been obsessed with the
Pioneer Woman's
recipes and have enjoyed trying them out on the fam.
8. Spend more time goofing off with the kids. I've limited my work load this summer so that I can spend more time with the kids...its going well so far, but I need to be more strict with my schedule.
9. Figure out what to do with my daughter's preschool art projects...they're everywhere and I have no clue what to do with them!
10. Finish the bathroom! It's painted and the shower curtain is set, I have a couple accessories, but need a few more to complete the look.
Just making that list has made me want to print recipes and plan birthday details!
What do you want to accomplish this summer?